Private beaches
There are more than 15 private beaches in Hurghada, the entrance ticket varies from one beach to another depending on the location and possibilities, while the lowest private beach ticket entry 50 pounds per person the highest can reach up to 200 pounds. Some beaches do not allow to enter with your own drinks and food as well as not to enter the youth gatherings.
Hotel beaches
 
Hotel beaches can only be used for hotel guests or day use only customers. The fee to use such a beach starts from 300 pounds and can reach up to 500 pounds per person per day to use the beach, lunch and leave at 6 pm.
1. Old Vic Beach
This beach is one of the calmest beaches and most beautiful places in Hurghada. Beside its soft sandy beach it is very clean and offer variety of useful services. The beach is good for families and water ski enthusiasts and the view of the beach is excellent.

Entrance fees to the beach vary depending on the time and season you go. In summer it will be more expensive than in winter, but expect to pay not less than 100 pounds per person.
2. Merritt Beach
This beach is part of the public beach No. 4 and the price of entry to the beach is 15 pounds according to the latest reports on the beach. This is one of Hurghada's beaches that can be considered free, ie very cheap comparing to other public beaches.

According to visitors reviews the beach is very special and its most important feature is its calmness. You will also find seats in front of the sea front so you can sit on and enjoy the view of the beach.
3. Al Sawaqi Beach
It may not be one of the best beaches in Hurghada, but it is a good beach, which is recommended to visit and is located between Hilton Plaza Hotel and the village of Aljesium. The entry fee is 25 Egyptian pounds. Here you can enjoy all the water activities as well as soft sand and panoramic views of the Red Sea.
4. Mahmya Beach protected
It is one of the best beaches of Hurghada tours and is located 11 km far from the city. This beach is not accessed by road, you have to take a small boat to reach it as it is situated in an island. This is one of the most beautiful natural beaches of Hurghada and is characterized by white sand and clear water, which allows visitors to see the bottom of the sea.

The beach is located on the other side of Giftun Island, and is known as VIP Beach due to its visitors who are always top class. The price may reach 900 LE per person. The beach also offers its visitors food and beverages: all kinds of fish and meal varieties.
5. Coral Beach
It is a private beach at Coral Beach Resort and Hotel. It also features 2 outdoor poolside pools, a tennis court, a shopping center and rooms with floor-to-ceiling windows. Guests can enjoy the on-site dive center as well as gourmet restaurants. Marine, refreshments and drinks at the pool bar and all these services make it one of the best beaches in Hurghada. The beach can only be used by hotel guests or day use only customers. The price ranges from 300 to 500 pounds.
6. Fayrous Beach / Public Beach No. 5 "Turquoise Beach"
It is a public beach located near Sherton Street and is one of the best beaches of Hurghada, but the space is limited and not large. There is a children playground. Entrance fee 20 Le. It is equipped with a set of sunshades and seats and the beach can be reached by a local transportation in Hurghada.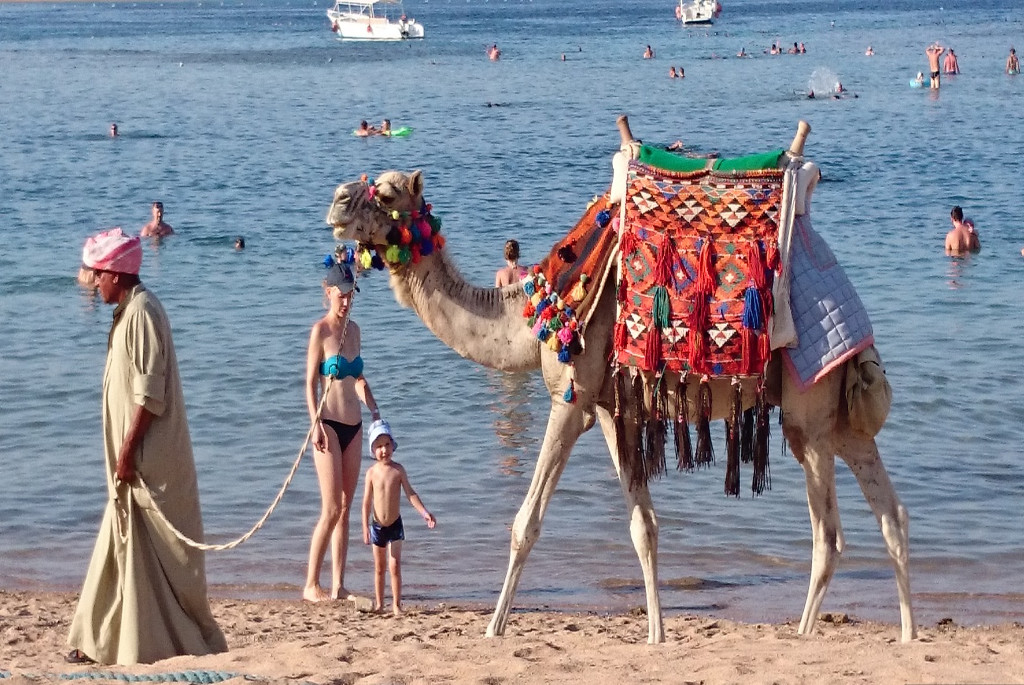 7. Social Club Beach
The beach of the social club in Hurghada is the most popular beach in the city center, located next to the Governor's Court and the Directorate of Security and adjacent to the Egypt Public Library.

The social club beach is one of the cheapest beaches in Hurghada and also one of the most popular beaches due to its location in the city center. Entrance fee for non-members is 15 LE per person. Here you find chairs, sun umbrellas and tables in return for the entrance ticket. You are allowed to bring food inside as well. The beach can be reached by car or taxi. It is one of the best beaches of Hurghada for low-income visitors.
8. Public Beach No.4
It is called Ghalaba Beach, although it is one of the best beaches in Hurghada in terms of clear water and entrance fee of 3 pounds per person, but it is not fully paved and there are no sun umbrellas or seats and visited by low-income and depend on themselves to provide alternatives to sunshades and seats.
9. Public Beach No.9
While it is the furthest public beach of Hurghada, it is easily reached by public micro-buses. It is located at the end of tourists promenade. Entrance fee is approximately 25 pounds. It is equipped with sun umbrellas and seats.  
10. Wild beach
 
Wild beach of one neighborhood (north of Hurghada) is one of the largest beach where people gather, but it is not a public beach. The area belongs to a company and is allocated for construction on the sea. Citizens use this beautiful beach to practice swimming.  
11. The Minister's Beach
The beach is widely accepted by citizens, is named after his presence in the district of Ministers' district north of Hurghada.
12. Dashat El Dabaa Beach
The beach of the native Hurghadians is located before the entrance to the famous Sahl Hasheesh area.
13. Al Nayzak beach
The secret paradise hidden on our planet," as described by the Ministry of Tourism Authority, Al Nayzak beach is a nature miracle that can easily be one of your favorite places to visit. A three-hour drive south of Hurghada or 20 minutes from Port Ghalib, several kilometers pass the Red Sea coastal town of Marsa Alam you will find an astonishing scenic view with glittery shimmering sea waves. Called by the locals the Shooting Star, it is a natural pool made of a unique rock formation which is believed to have been shaped by a meteorite hitting the coast.