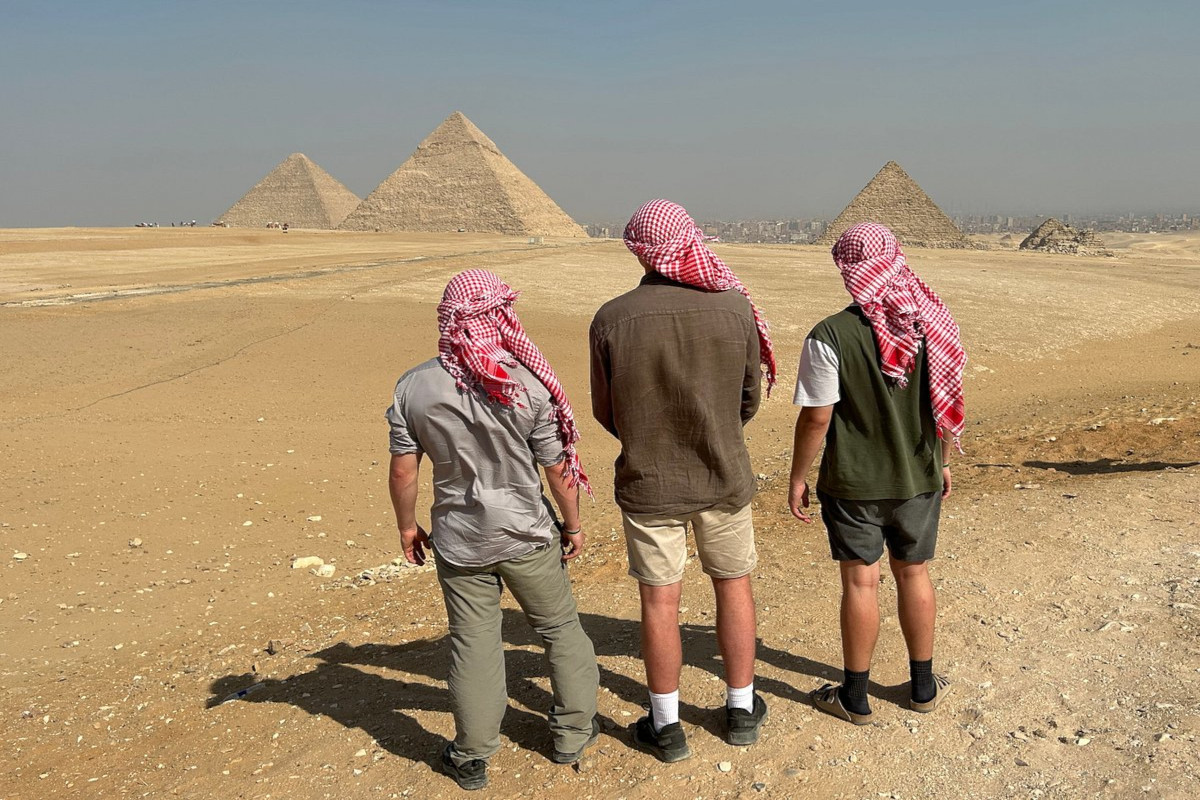 Cairo itinerary one day
First time visitors who are on a short break in Cairo or even transit tourists will definitely benefit from Cairo Layover or Stopover tours from Cairo airport.

What you will get on your tour?
- Pick up from the airport by English speaking guide
- Transfer to the pyramids
- Pyramids tour, which takes around 3 hours usually includes:
walking or camel tour around the main Great Pyramid of Cheops
optional entry inside one of the 3 pyramids of Giza
photo session on the plateau with panoramic view over all 3 pyramids
visit to the Valley temple and the Sphinx
optionally you can visit Khofu Solar boat museum, workers tombs and the cemetery
- Lunch in a local restaurant if you want
- Shopping around local bazaars
- Transfer back to the airport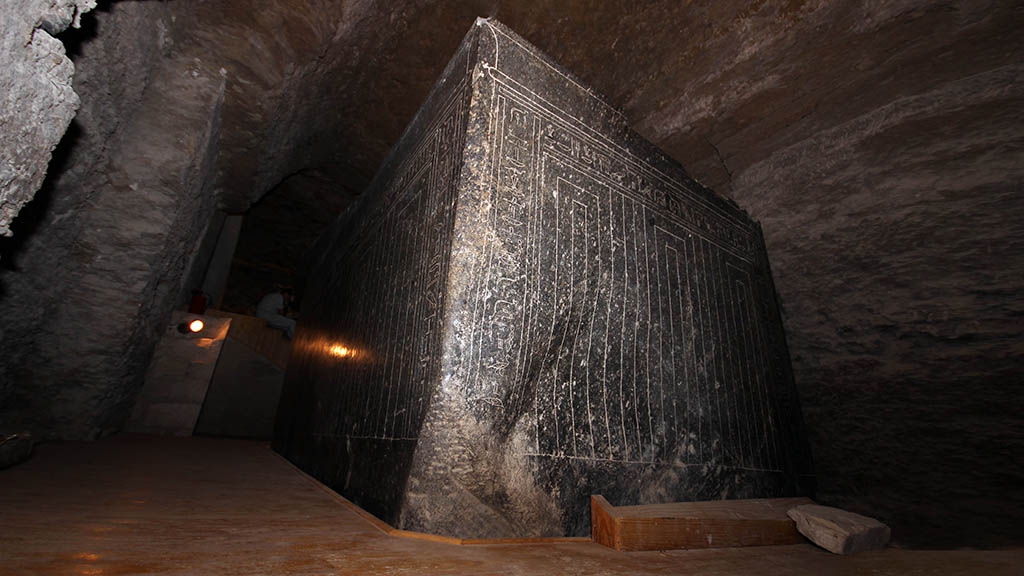 How to spend 24 hours in Cairo
This option will suite those who had already been to Cairo and saw its main attractions but still want to know a little bit more about the city, its history and interesting places to visit.

First option can be to go to the desert and explore Abu Sir, Saqqara, Dahshur and Meidum with its strangely shaped pyramids, newly discovered very beautiful tombs and even Catacombs!

If you stay overnight in Cairo in is a good practice to visit at night Sound & Light show at the pyramids or take a Nile cruise for a dinner with an oriental show on board.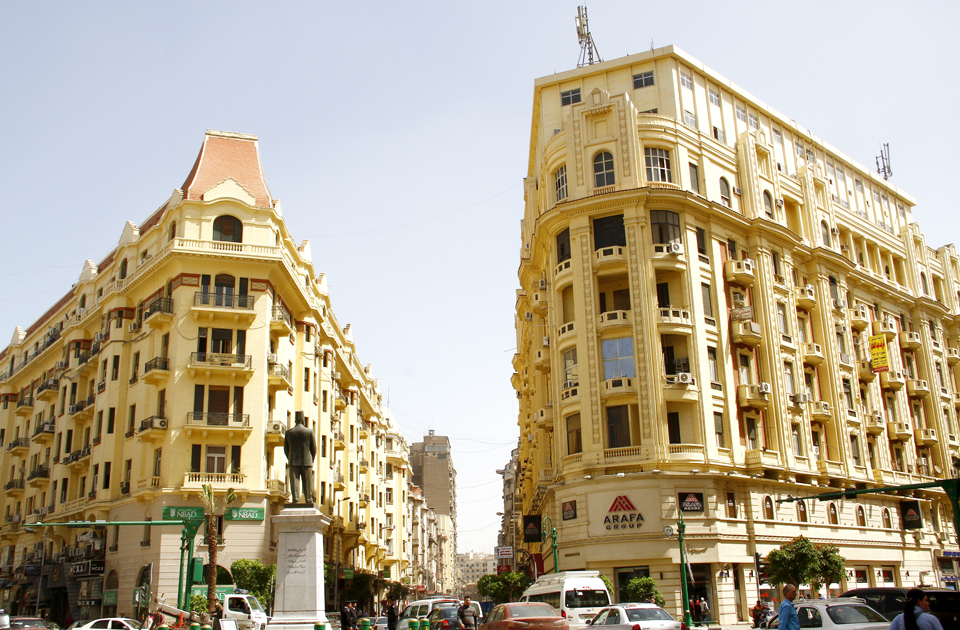 Walk in Cairo downtown
Not interested in ancient history? Go for a walk in Cairo downtown and discover beautiful and very famous buildings of Cairo's downtown, numerous shops, oriental cafes and some very interesting museums.

Start with Tahrir square. Imagine standing in Midan al-Tahrir 150 years ago. What would you see? If it were the end of July you would probably be in a boat during the annual inundation of the great Nile. Even today you have a great chance to experience Nile felucca ride right from Cairo downtown, do not miss the chance and try this authentic experience.

It was not until after 1863 that the swampy plains were turned into a complex of modern buildings and boulevards, echoing the architectural style of Paris. Cairo was to have a series of large midans or squares, connected by boulevards radiating out from them like spokes from a wheel. Even now this style is clearly recognized in the downtown area.

Midan el-Tahrir is the hub from which to beging exploring central Cairo. As you stand facing the Nile, you will easily note to your right the russet-coloured Egyptian museum with the treasures of the pharaohs awaits you. Turn 180 degrees and you will see, just past the well-groomed roundabout, Talaat Harb street, the main street of entry to the downtown area, walk right into it. Explore numerous contemporary art galleries, beautiful past century buildings and famous cafes such as Groppi and Cafe Riche opened in early 1900s.

Beside cultural centers look for Ethnology Museum and the Geographical society, Bayt al-Umma and Tomb of Saad Zaghloul, Makan and Egyptian Center for Culture and Art, Educational Museum and Document Library, Contemporary Image Collection, El mastaba Center for Egyptian Folk Music. The highlight of your walk will definitely be the Abdin Palace Museum.
Cairo city tour can be challenging
Very challenging but still adventurous and full of discoveries can be Cairo city tour if you start it from Cairo Citadel square. This one hour walking tour will lead you through Medieval Cairo streets full of old Islamic sights, mosques, palaces, houses and sabils. The final destination is to be Khan el-Khaliily bazaar and el-Muez street. Start from the Complex of Sultan Hasan and explore old curvy streets of Cairo. On your way, according to the street you choose, you will see the following.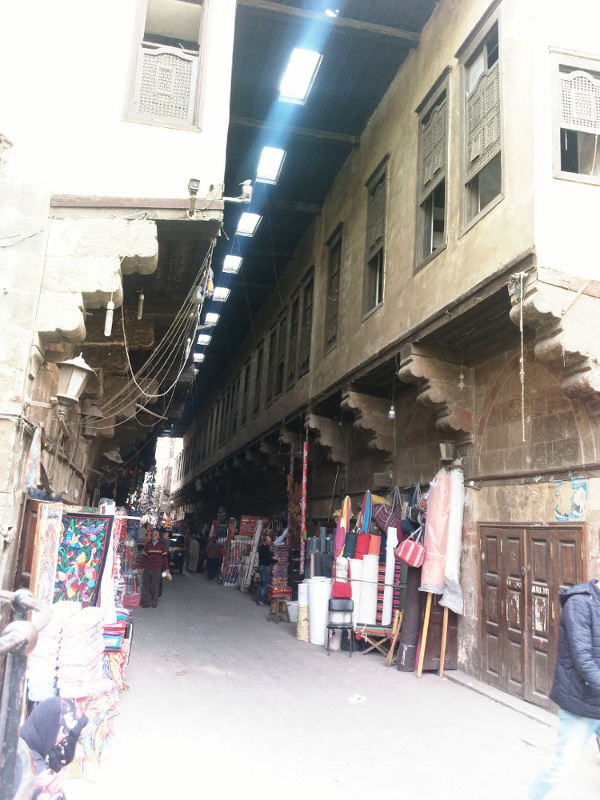 From Sultan Hassan complex to Bab Zuweila
Enter the 1st street to the right behind the Sultan Hassan complex, back door. You will pass by many local markets, maybe will notice some old buildings, mosques and so on here and there as they will be mainly hidden by stalls and other modern constructions until finally reach a covered market known as tentmakers street or al-Khayamiya street. Walk in and enjoy old Cairo craft that is in danger of disappearing. Al-Khayamiya street is famous by artisans practicing the art of applique (stitching layers of cloth to create patterns) to create decorative tents. The street has changed significantly in the past few decades so do not miss the chance to observe this unique art and may be buy some of its products.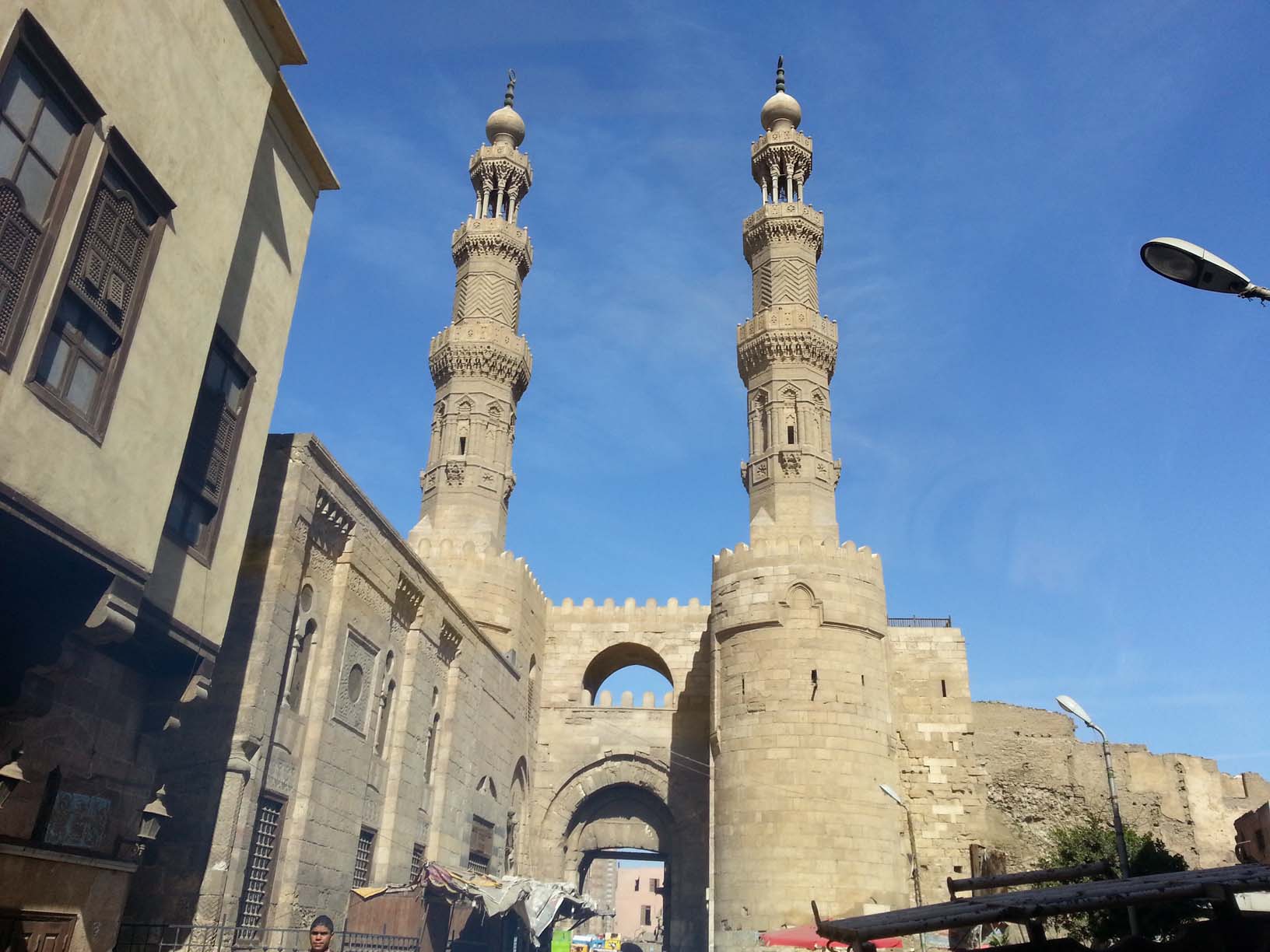 Bab Zuweila
At the end of the street you will stumble upon a huge ancient gates with tall towers. This is Bab Zuweila, one of the 3 survived gates of ancient Cairo city (one day they were 60). Feel free to explore the gate, go inside and climb over its minarets, observe Cairo from the top, it's fascinating. Bab Zuwayla offers one of the most magnificent views in the neighborhood.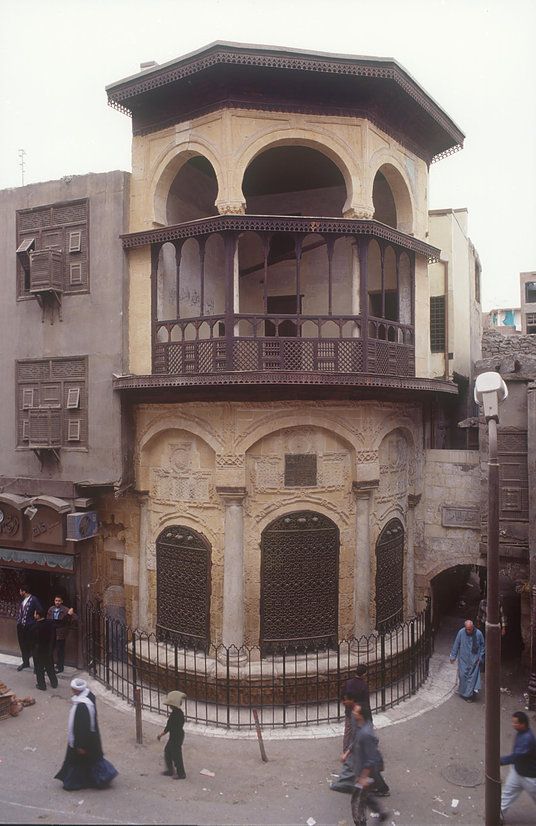 Sabil-kuttab of Nafisa al-Bayda
After investigating the gates, look to the right side and a beautiful small sabil-kuttab of Nafisa al-Bayda will be right in front of your eyes. Enter freely and explore it (small entry fee will be charged). It is a very handsome example of a unique Cairene construction that some hundreds years ago was a common structure on every street in Cairo.
Sabil-kuttab of Tusun Pasha
Follow the street looking around, notice some other ancient buildings and mosques. The next interesting building will be again on your right. You can not pass by without noticing this prominent building. Sabil-kuttab of Tusun Pasha. It has been restored recently and now you can enter it, discover its cistern where drinking water was stored or go upstairs and see the arrangements of its school, even ancient desks are still there! Now you know how sabil-kuttab (a public water dispensary in combination with a Quranic school) worked in Cairo.
Al-Ghuraya Cairo markets
Continue the street to find yourself in a busy area known as al-Ghuraya. Here you can finish your journey or cross the street and continue exploring Medieval Cairo known now as Historic Cairo.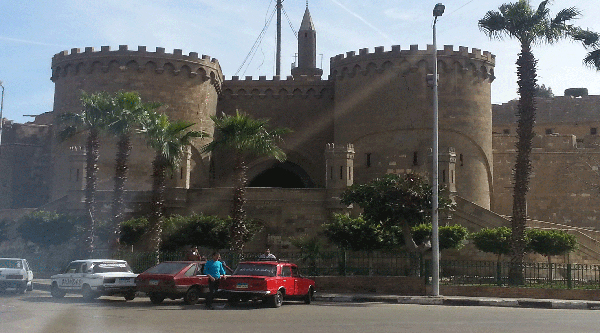 From Bab al-Azab to Souq al-Silah street
Start you walk from Bab al-Azab that projects into the maydan (Citadel square) and is clearly seen and distinguished from any point of the square. From Bab al-Azab proceed up the hill along the wall of the Citadel. The first street to the left will lead you through many ancient Islamic structures. Let's discover Sharia Bab al-Wazir (al-Wazir gates street). Here are the buildings not to miss.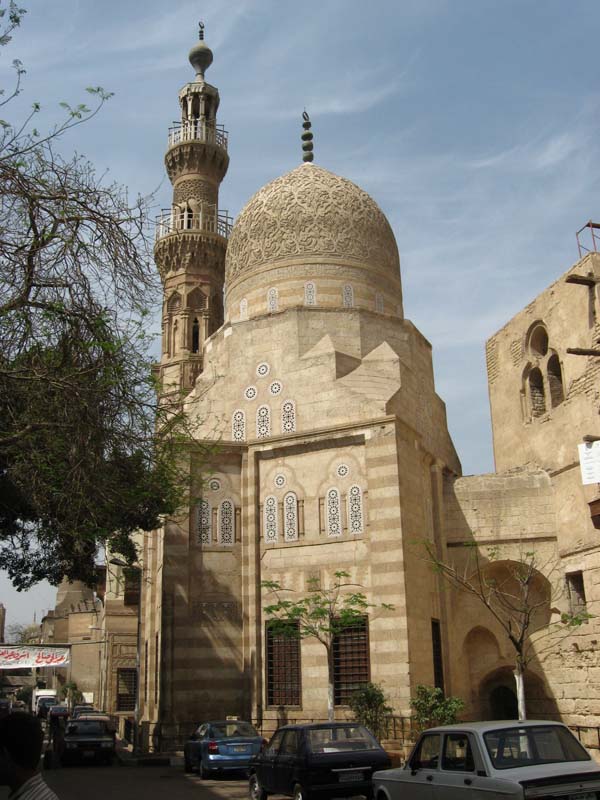 Mosque Mausoleum of Khayrbak
On the right side you will find the remnants of what once must have been a very impressive early Bahri residence – Palace of Alin Aq. The best view of the complex is from the direction of the Citadel. Khayrbak annexed the former palace of Alin aq in the foreground and heavily restored it as his residence.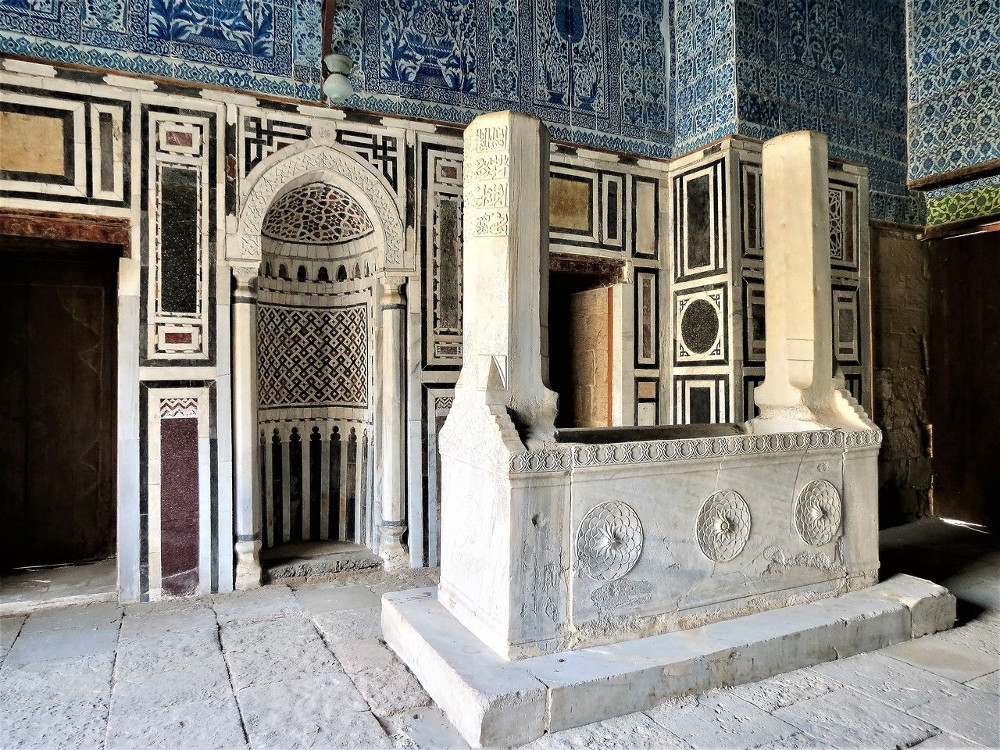 The Blue mosque
Next stop is to be at Mosque of Aqsunqur also known as the Blue mosque due to its tiles. The facade is distinguished by the lovely panels of weathered blue-gray marble. The mosque was constructed in 1347, but the blue tiles for which is is famous were installed between 1652 and 1654 by Ibrahim Agha.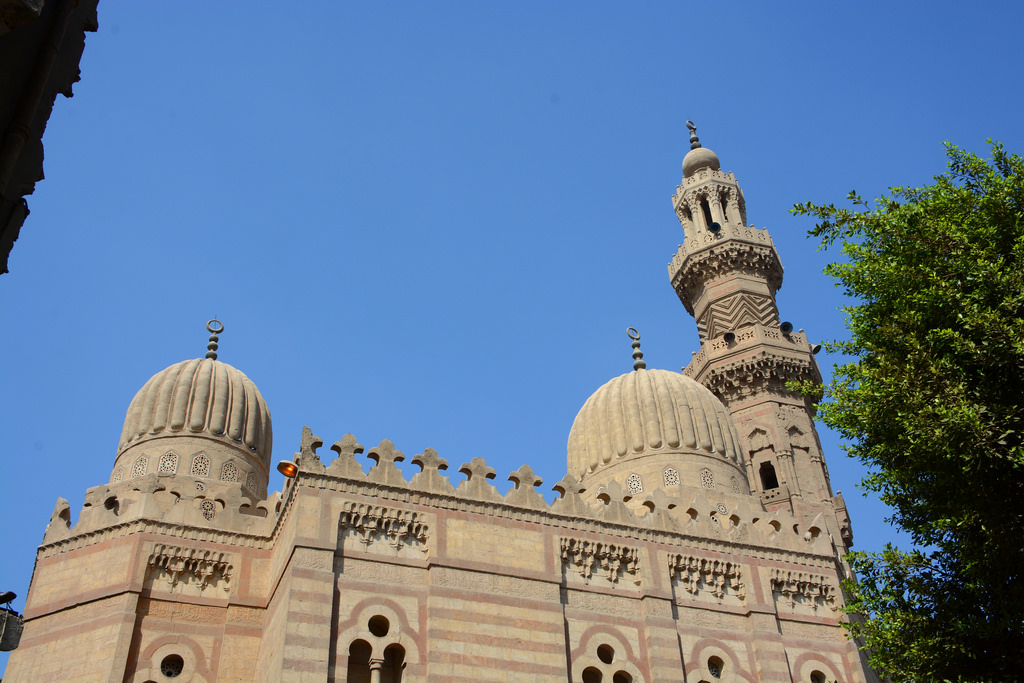 Madrasa of Umm al-Sultan Sha'aban
Around 100 meters down farther the street, on the left, madrasa of Umm al-Sultan Sha'aban is distinguished by its handsome facade and double domes. To the right of the entrance is a drinking trough with inscriptions above; to the left, the opening of which is covered with mashrabiya screen with beautiful geometric designs.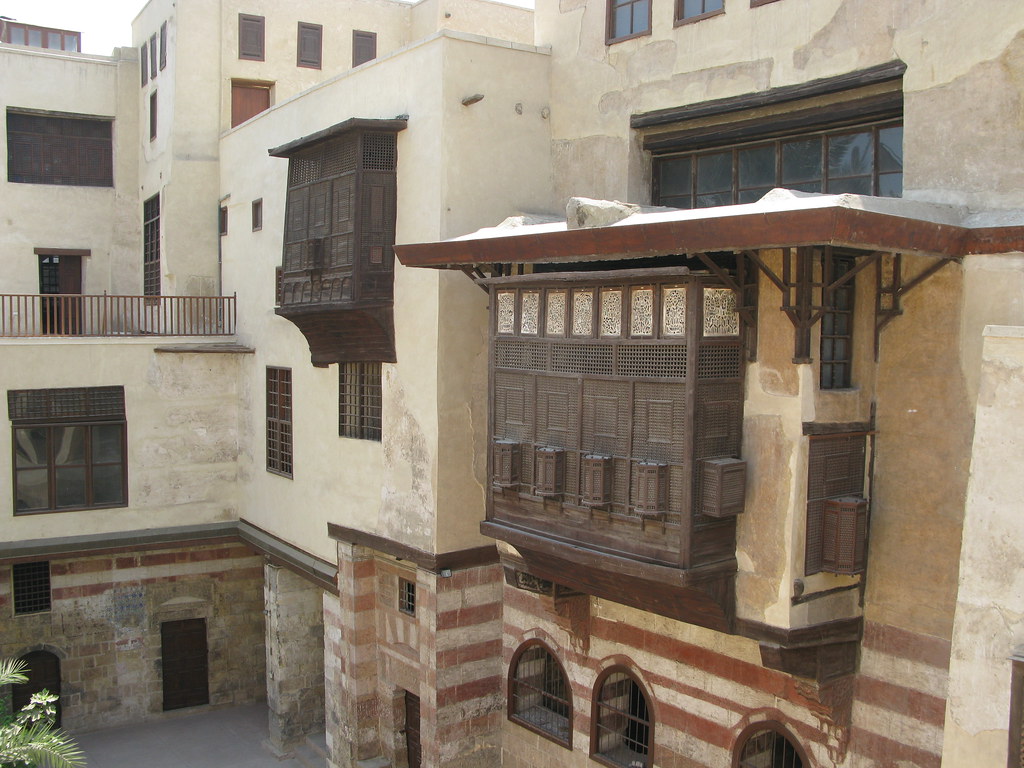 Bayt al-Razzaz
Immediately next to the mosque of Sha'aban identifiable by its second-story mashrabya windows, is Bayt al-Razzaz, a vast mansion made up of two houses.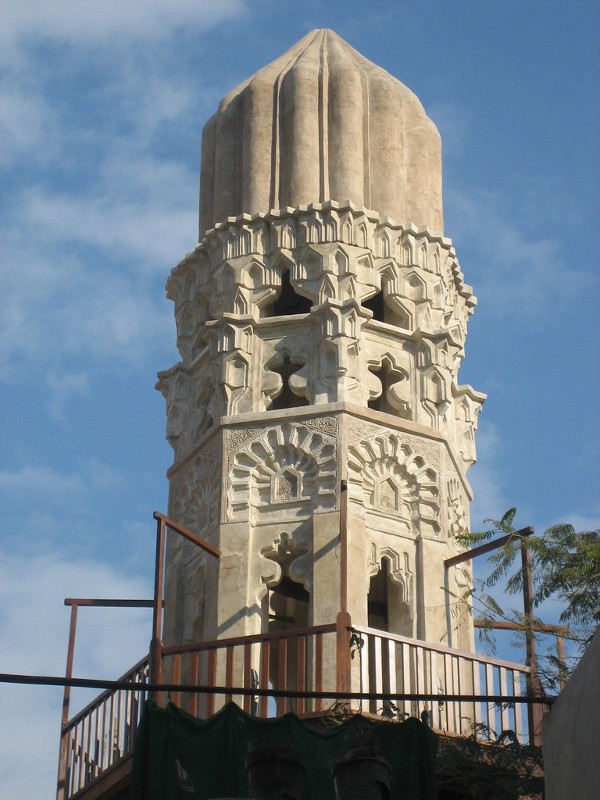 Zawiyat al-Hunud
The facade opposite the madrasa of Umm al-Sultan Sha'aban ends in a sabil of Ibrahim Ahga Mustahfizan. And if you walk down the alley from the sabil and enter the school at 49 sharia al-Tabbana, you will find the oldest surviving minaret of the Bahri Mamluk period – minaret of zawiyat al-Hunud.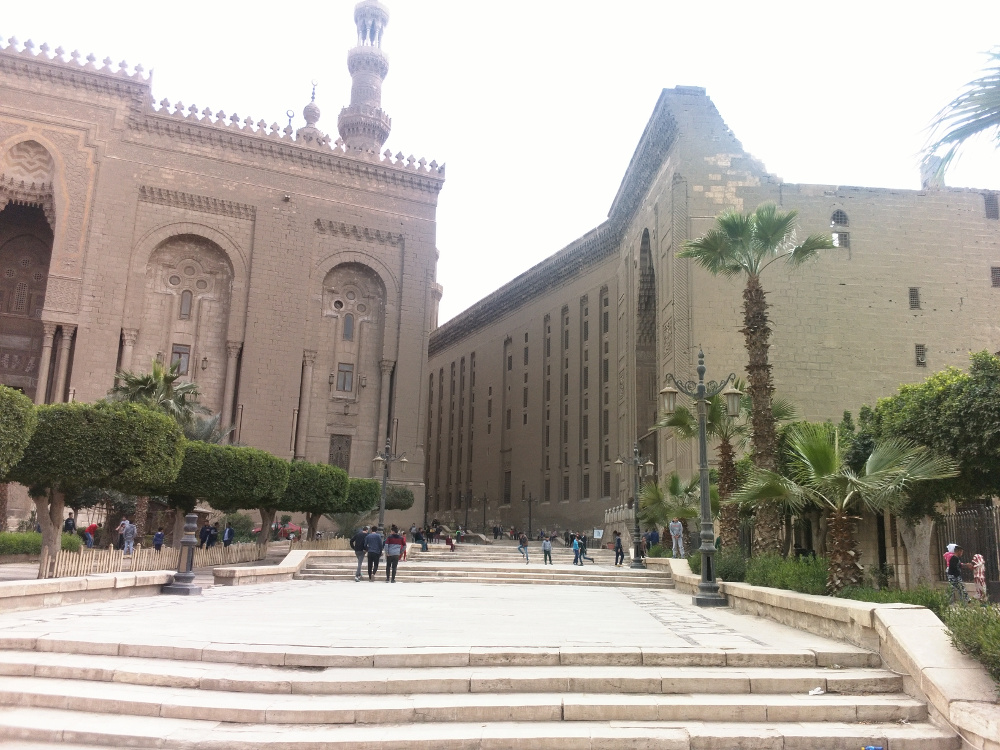 Choose your route
Another 140 meters down this street and Sharia Suq al-Silah will appear to the left. At this point you can turn and come back to Sultan Hassan complex or continue to Bab Zuweila and forward to al-Azhar area as describes in the first rout.