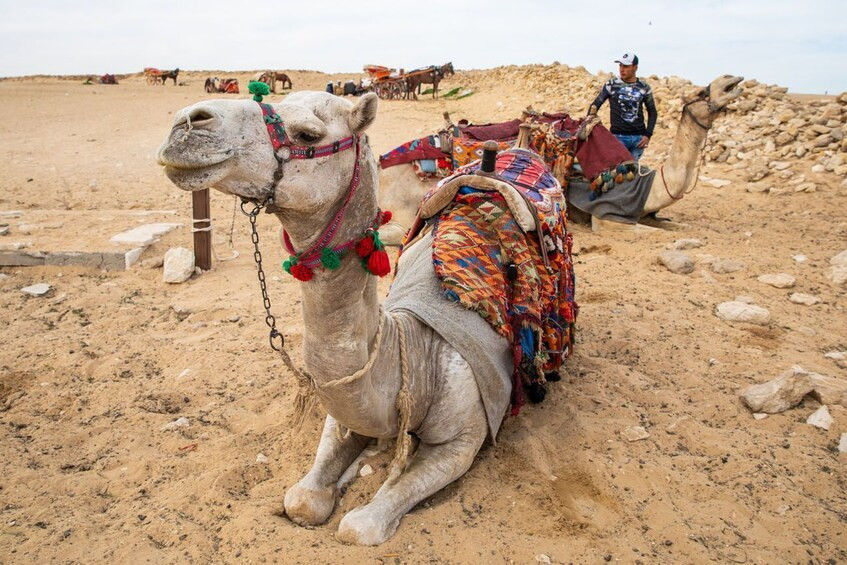 Can you ride camels in Egypt?
Yes, Egypt is one of the most famous destinations for riding a camel in the whole world. Step back in time to discover ancient history with a camel ride in Cairo, Hurghada, Sharm el Sheikh or Dahab! Camels in Egypt appear on archaeological and other tourist sites. Your guide will show you how to mount and ride a camel and accompany you during the trip.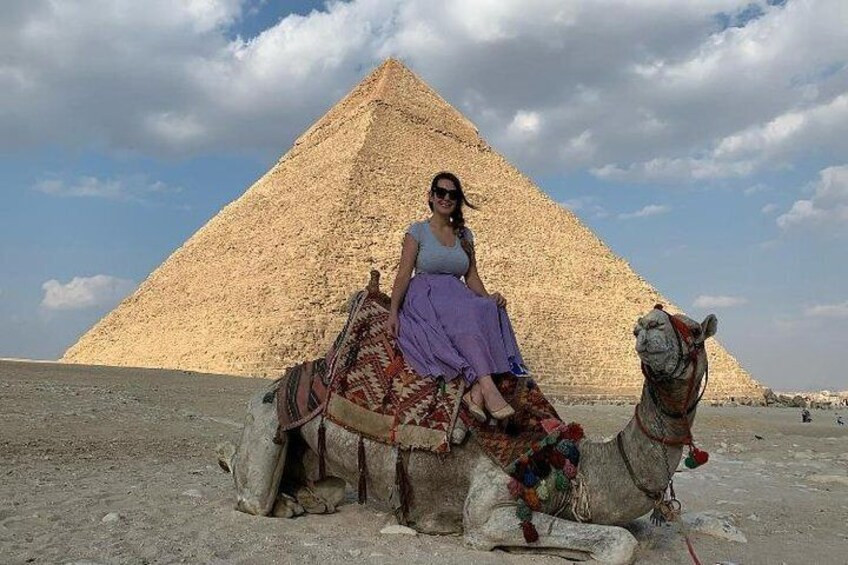 Where to ride camel in Egypt?
There are many places in Egypt where you can experience camel riding, the most famous one is at the bottom of the Giza pyramids. Most tourists prefer riding camels to horse-riding or walking around the pyramids. You can either take a short tour around a pyramid of hire a camel for a full day experience at the back area of Giza plateau.

Do not visit Cairo this holiday? No worries! You can experience camel riding right at your Red Sea resort. In Hurghada this activity is very popular along the beach while in Sharm el Sheikh many trips like Star Gazing or Blu hole safari offer the experience included in a full day trip.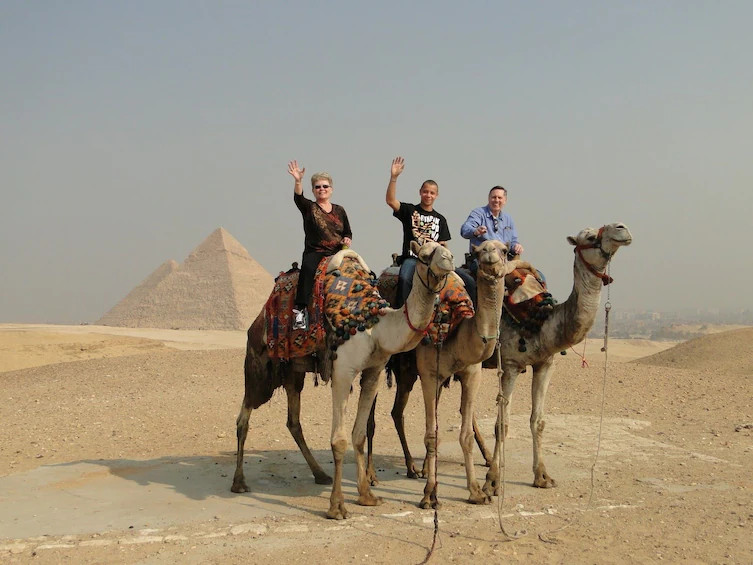 Can you ride a camel at Pyramids?
Camel rides in Giza Egypt at the Pyramids is one of the most popular activity in Cairo that travellers like to participate. It is not really expensive to hire a camel for a short 10-15 minutes ride around the pyramids, but you have to bargain to get the best price. If you have a guide with you he can help get a better deal. Want a hassle-free journey on a camel and cool photo-session at the back of the pyramids? Book online a half-day camel tour to the Pyramids and enjoy the experience in a remote area away of tourists traps and crowds.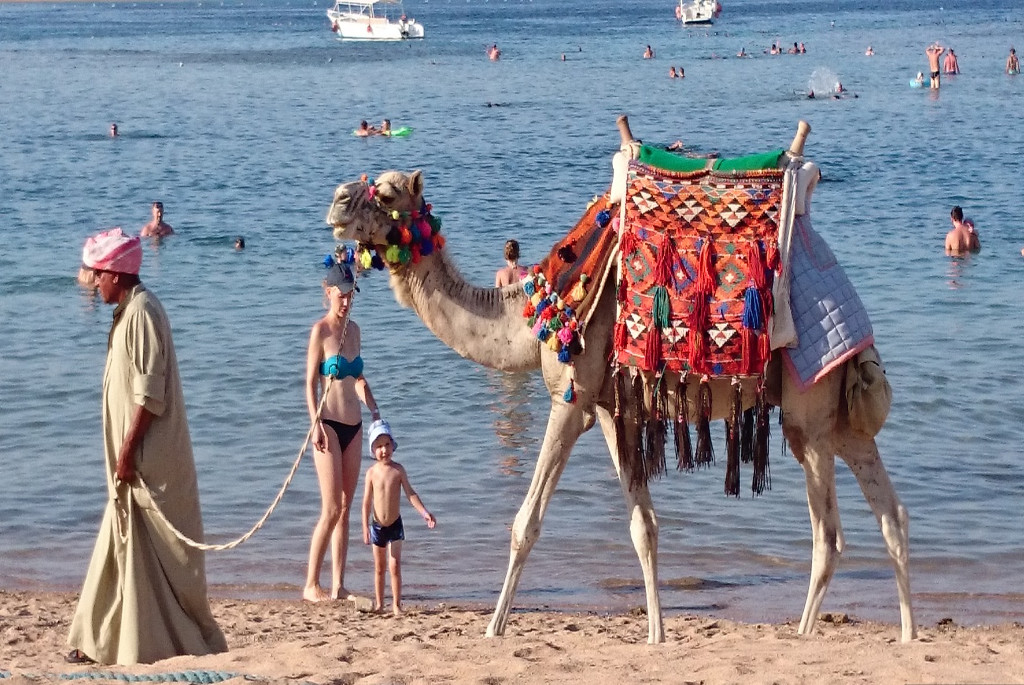 Camel rides in Hurghada
Camel rides in Hurghada Egypt are not limited just to ordinary along beach 10 minutes walk. If you want a real experience than take part in one of the safari trips that includes a camel ride in the desert with a Bedouin boy. Sunset is the best time to ride a camel in the desert, that's why most of safari tours start in the afternoon to let you take in stunning views. This time is usually not as hot as the rest of the day.

If you are in Sharm el Sheikh, Hurghada or Dahab - a short ride in Old Market or a long ride near the mountains followed by!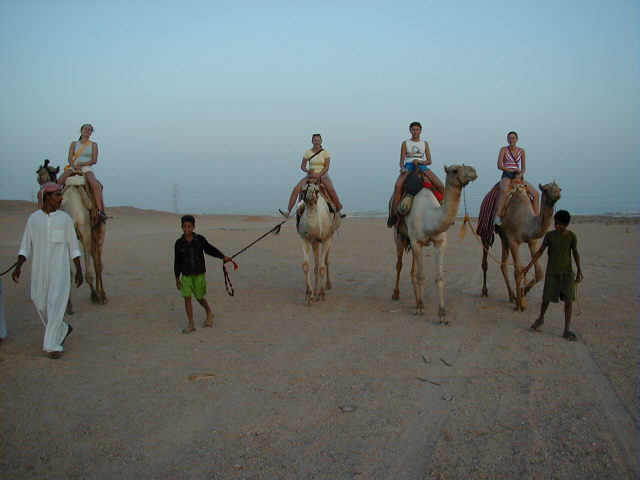 Camel rides in Sharm el Sheikh
Sharm el Sheikh is now famous for its annual Camel race. Since you can not experience camel ride inside the city, many trips now include this experience as a part of their tour to let guests of the country get closer to Bedouin life style, taste a cup of Bedouin tea or a Bedouin dinner with traditional show. It will be an adventure to remember.

The following trips include long or short camel riding experiences in Sharm el Sheikh:

- Sunset camel ride in the desert
- Stargazer trip to the Bedouins
- Mega safari with camel ride
- Quad-biking and Camel riding tour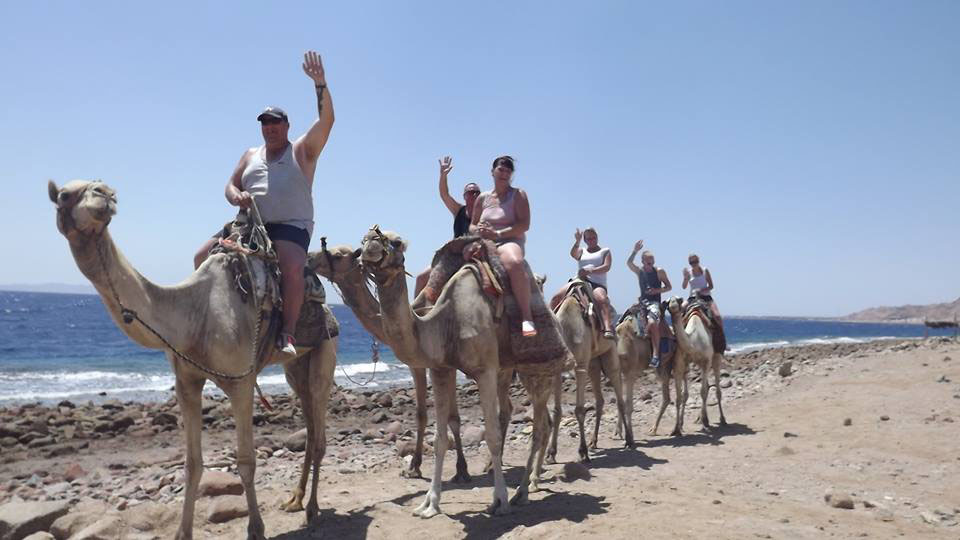 Camel rides in Dahab
Dahab city offers a variety of Camel riding experiences to its guests. One of the most popular among tourists is a Camel ride along the Red Sea shore at the Gulf of Aqaba to Blu hole diving site in Abu Galum protectorate.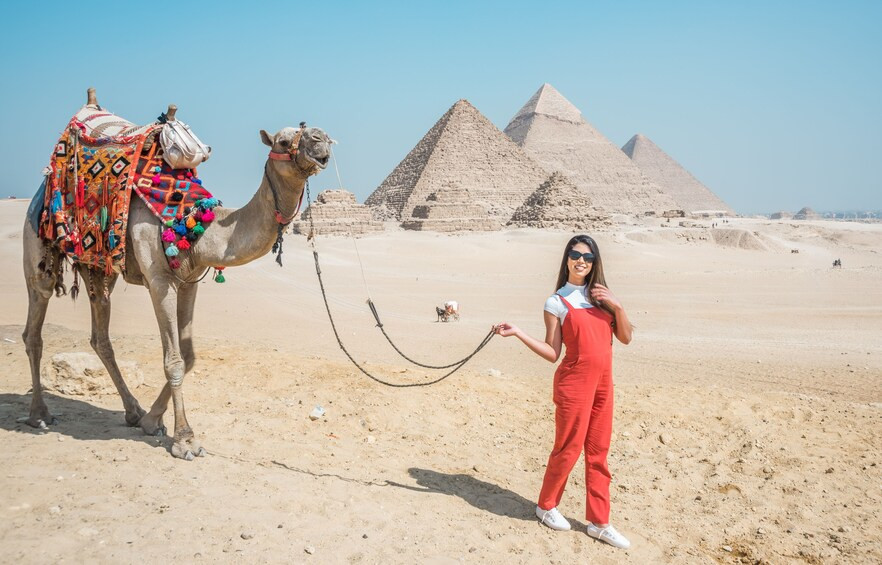 Weight limit to ride a camel in Egypt
Previously the camels were used to transport goods on long journeys on the Silk Road and around the Middle East. A camel's long legs have powerful muscles therefore they have much more long-distance endurance than horses. Now tourists can ride camels and have fun exploring the area they are visiting. Camels in Egypt have single or double saddles with weight limit being 100 kg per person for a single saddle and a combined weight of 170 kg for two people in a double. The usual weight a camel can carry varies from 120 to 200 kg but the changing of riders puts lots of pressure on his joints and back. To reduce the chance of injury to the camel or the riders, the weight limitation has been lowered. Most of the time male camels are used as females are lighter and can carry less. Baby camels at the age of 6 can already carry small kids for a short periods of time only. Making sure you are fit enough to mount and ride a camel ensures both of you will have a safe and comfortable experience.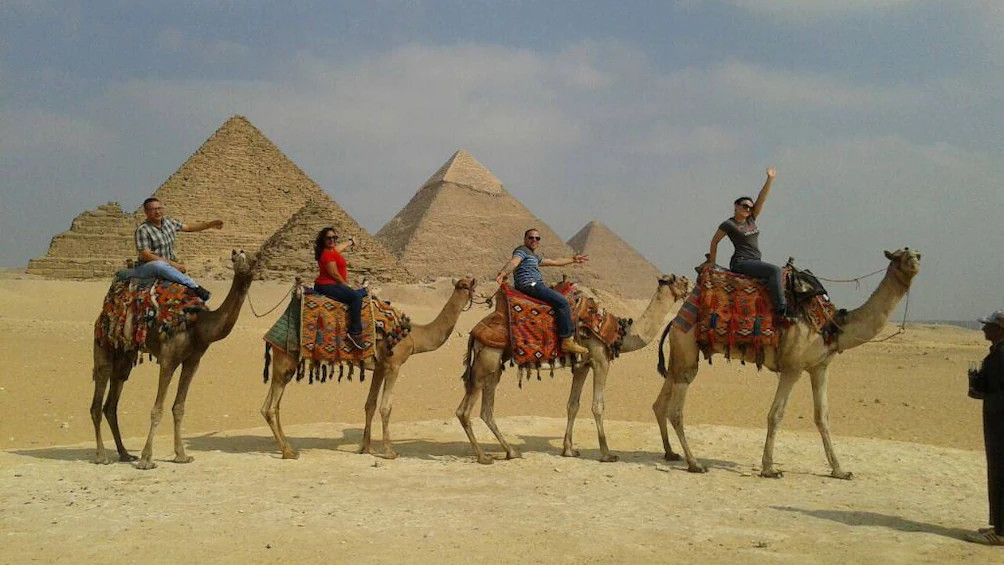 How much does it cost to ride a camel in Egypt?
Camel rides in Cairo are highly recommended and they mostly start from the Khufu Pyramid. Here tourists approach a Bedouin camel owner and they can be charged more in the end of the ride than agreed upon. The trip usually consists of a short ride around main landmarks of Giza - the three pyramids and ends over at the Sphinx. The camels are dressed colorfully to attract tourists' attention.

Giza pyramids camel ride price vary. One way to make sure you get a good price is to book a full-day private tour including the camel ride. Visitors can book a camel ride at the main entrance gate to the Pyramids. There are authorized stables just beside the gates and the ride covers almost all the important landmarks and is hassle-free. It is better to agree on a price beforehand to avoid issues at the end of the trip.

Official rate is 50-100 EGP however it can vary a lot depending on your negotiation skills. If you bargain you can get a discount that suits your budget. A 30-minute ride is around $20 in Cairo and can get more expensive in other touristic areas. It is up to you if you want to leave a tip to the camel owner.

Sharm el Sheikh camel rides price will depend on the tour you book, if it is just a Sunset camel ride trip into the desert, then the price will be 25$ per person including the return transfer to the Bedouins and around 40 minutes ride. Should you wish to experience a full day safari trip with short camel riding activity, the price will be different.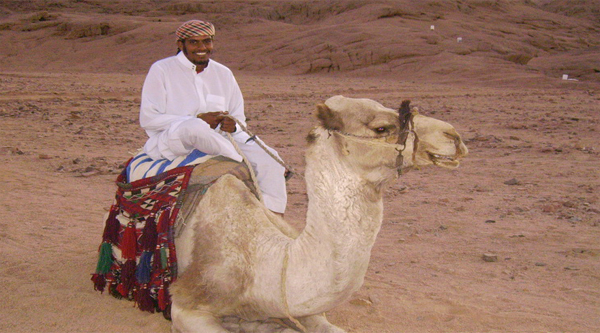 Camel ride in Egypt desert
Camel ride in Egypt desert can be experienced on a specially organized camel safaris into the desert