Things to do at the Pyramids of Giza
The area at the pyramids is full of fun outdoor activities. There are many things to do here in the Pyramids desert, whether you are an early bird and want to see the Pyramids at sunrise, take a morning quad-biking tour to a wonderful view point of the Three Pyramids of Giza. Do not like to get up early, take your time and hire a camel for a lazy and slow walk around the pyramids. What to do in Giza on a sunny day, you may wonder. The answer is simple! Take a horse-drawn carriage ride and watch the pyramids from under its hood.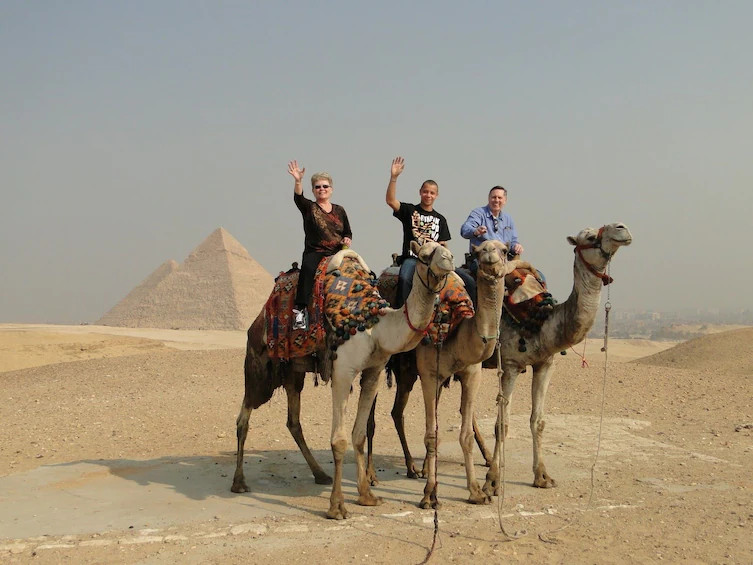 Tourists often ask Where can I ride a camel in Egypt? Can you ride a camel in Cairo? And the answer is yes, you can ride a camel in Egypt at the Pyramids! There are several options to do the activity. You can hire a camel for a short 10 to 15 minutes ride around a pyramid with some photo shoots and bargain with the Bedouin guy yourself or book a Camel half day tour to the pyramids with a professional Egyptologist English speaking guide. Option to take part in a camel riding activity at sunrise or sunset at the back area of Giza pyramids and shoot some cool pictures is also available.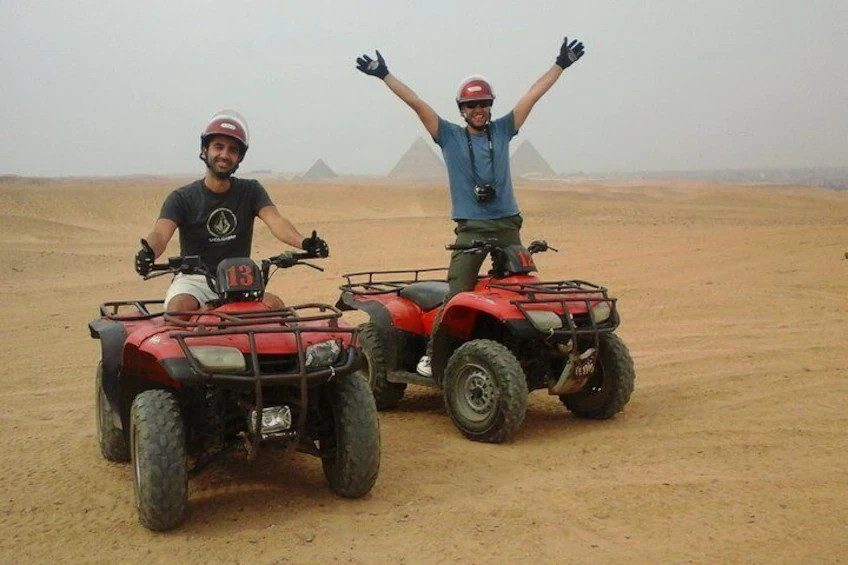 ATV activities in Cairo Egypt are widely spread at the Pyramids of Giza. This kind of tour is very popular between locals and tourists alike. You do not need to know how to drive a bike, after some short instructions you will be able to handle your 4x4 quad very confidently. These custom made buggies are capable of whisking over the dunes at  a speed of 50 mph taking you to the most remote and amazing parts of Giza plateau most travelers to Egypt will never get to see. Riding through the desert is a thrilling experience, riding quads in the vicinity of the ancient pyramids is a life-time adventure. Unique landscapes and the three pyramids view pictures are guaranteed.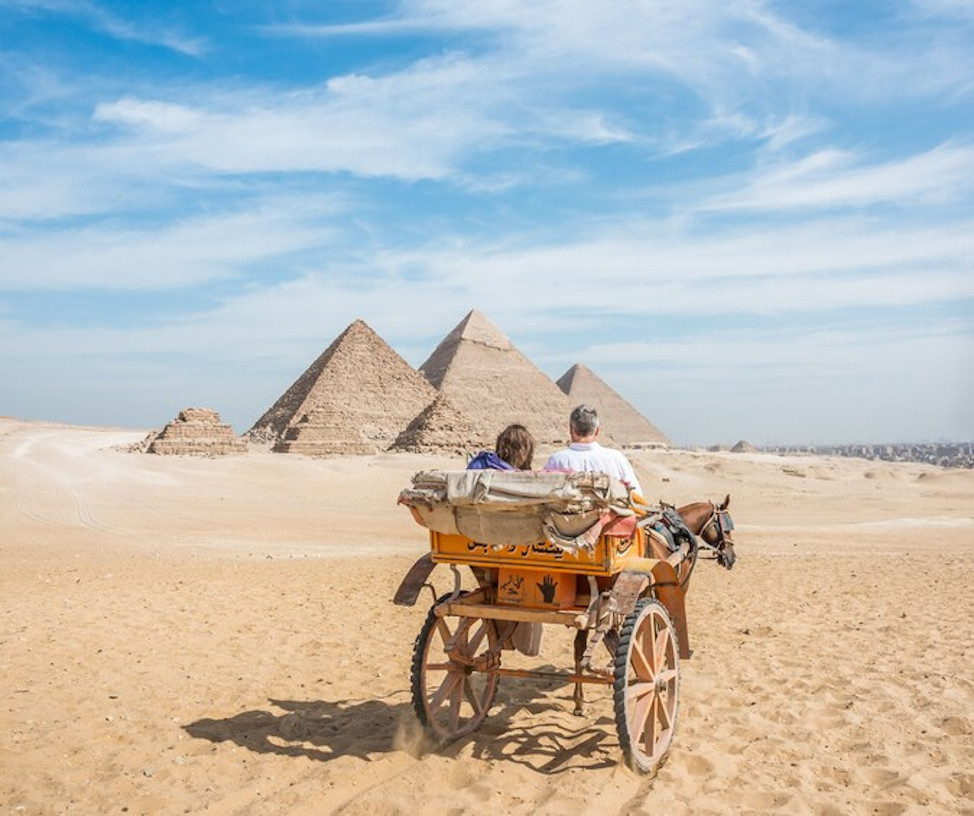 Horse-carriage tour around the Pyramids is a fun way to explore the most famous Pharaonic structures. In Egypt horse-drawn carriage is called «huntour» and represents a cabriolet on 2 wheels as a rule with a hood you can use on a sunny day to protect your party from the heat. The carriage is meant just for 2 people, but locals can fit in a lot more.

You can catch your carriage right before the main entrance to the pyramids and take a tour of the three pyramids and the Great Sphinx of Giza. Be ready to bargain for your activity. Alternatively you can visit a local stable and hire a horse-drawn carriage to take you to the Pyramids desert to experience the serenity, appeasement and tranquility.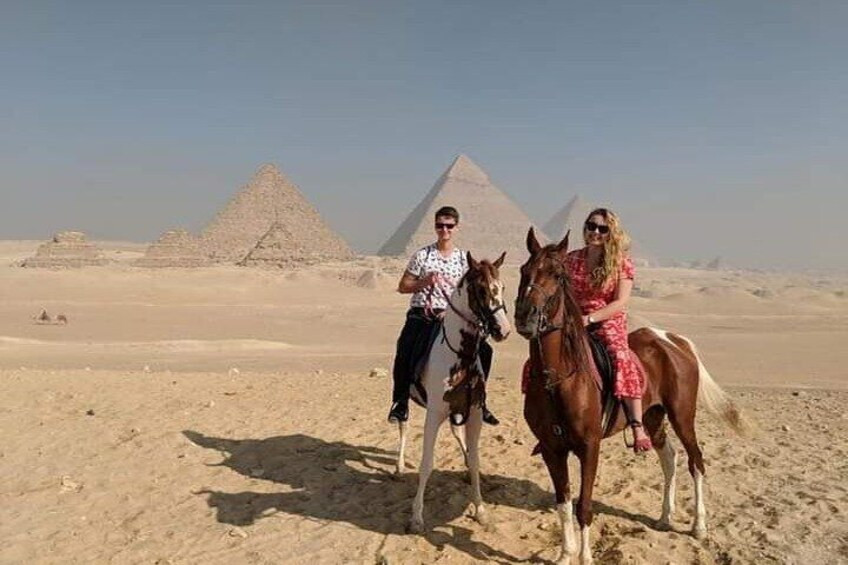 Wishing to stretch out your Giza pyramid experience beyond the touristy camel rides try a horse riding tour into the desert, often called Sahara. Not many tourists can get the experience of riding horses past the pyramids, with splendid views over the three pyramids. Amateurs and professional horse riders alike will enjoy the activity. From the moment you are picked up at your Giza apartment to the drop off at night, this will be one of your Egyptian trip highlights. Professional groom will take you to the outskirts of the pyramids in a neighborhood with stables. Friendly horses to ride will be offered to you, through a few streets, into the desert, past the pyramids and on to an area with Bedouin tea you will be always accompanied by a professional groom. Riding horses back at night time puts another touch to the desert activity. After return, you can get a local dinner at a farm adding the finishing touch to your Giza pyramids adventure.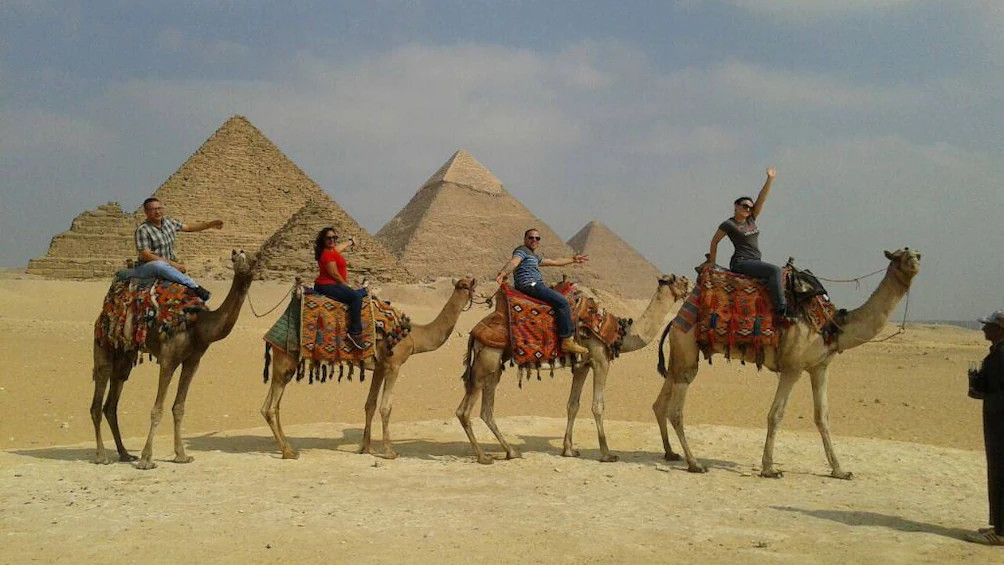 Riding camels in front of the Giza Pyramids at sunset is a quintessential experience to add to your Egypt vacation. No prior riding experience is needed to traverse the desert dunes on well-trained camels, a fun experience most travelers can participate in. Watch the sunset and capture unbeatable views of the pyramids as you ride. Combine camel ride with quad-biking tour at the back of the pyramids and add even more thrill to your desert journey. Available throughout a day this trip will reveal you the best places to take pictures of the Pyramids as well as show the desert in the middle of Cairo.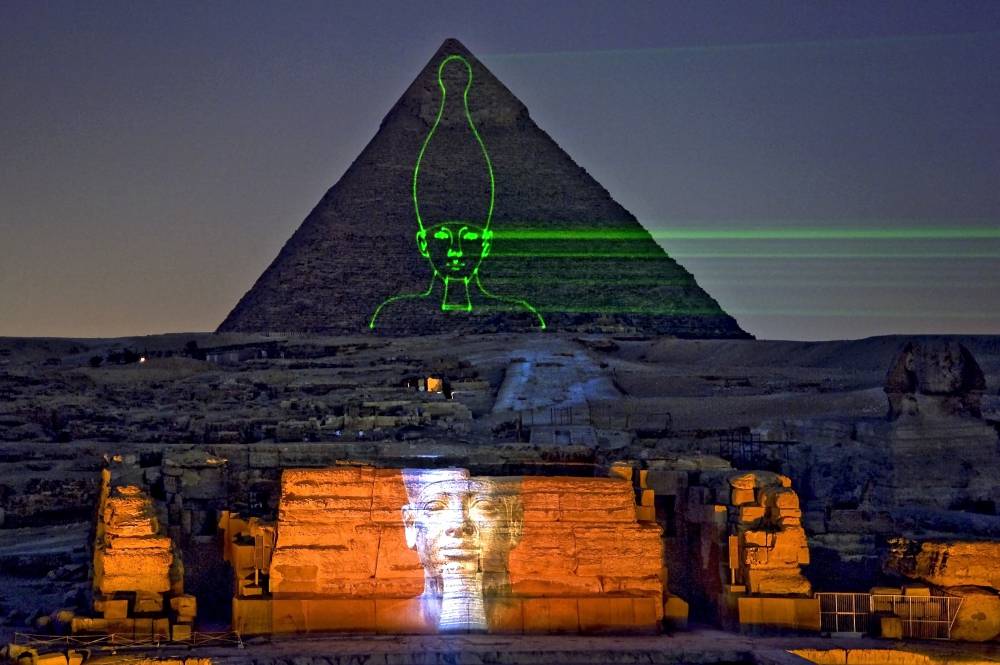 Staying overnight in Cairo gives you a great chance to see pyramids at night. Although the site closing time is 5 pm, you still can visit the pyramids at night. Go on Sound & Light show tour at the Pyramids to participate in a great event. Lighted in different colours, with special sound effects the story of pharaohs and ancient Egypt will be told to you by a narrator on 10 different languages.